Many pureed soups are made with milk, butter or cream—or a combination of all three—which is disappointing for those of use on a dairy-free diet. But it's a common misconception that these ingredients are required to achieve a smooth and creamy result. There are some truly decadent (and creative) pureed vegetable soup recipes that don't contain any dairy at all!
A creamy soup can be prepared by simply boiling and blending vegetables and stock. Soups may also develop their creaminess with dairy-free milks, such as almond or coconut milk, or just blended nuts. It's a very simple process that yields a big bowl of flavor.
This tip comes from Food 52 where they found a technique for using "roasted onions, puréed until they puff up into a glossy cream-like substance" to replace cream in soups.  It is a simple technique that uses only onions, oil, salt and lemon to create a puree that helps to create a rich and well rounded creamy soup. I have given it a try and can say that it really works.
As you prepare your weekly menu, consider these deliciously dairy-free soups from 3 amazing food bloggers. Try one (or all) and let me know what you think in the comments below.
4 Creamy Dairy-Free Soups
Curried Coconut Carrot Soup from the kitchn
Ginger Miso Sweet Potato Soup from Dishing Up The Dirt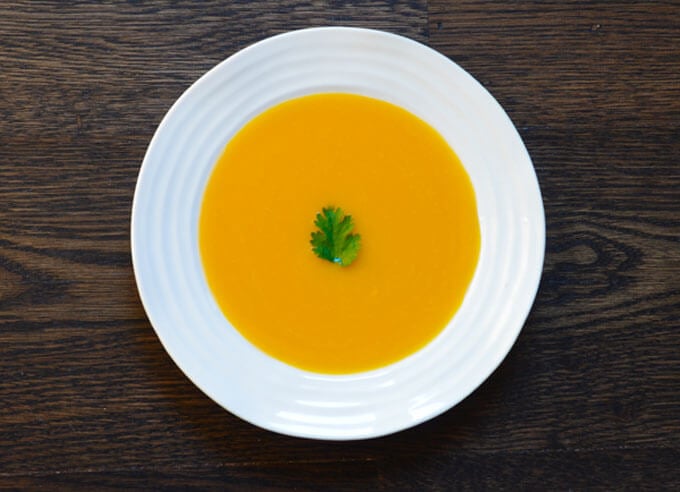 Paleo Butternut Squash Soup from Elena's Pantry
Red Lentil and Coconut Soup from The Holistic Chef.  I used coconut milk to complement the already creamy texture of the red lentils.
(Side Note: I really should have titled this the "4 ORANGE Decadent Dairy-Free Soups"!!! That was completely unintentional.)